SEO may always be changing, but for the last few years, one thing has remained the same in automotive. Your Google Business Profile or GBP is key to your success on Google. For those that are unfamiliar with the term GBP, you may know it by another name. Up until late last year, Google Business Profile was called Google My Business or GMB. The new name makes more sense but it might take a while to get used to. Should you be optimizing GBP for your dealership in 2022? The simple answer is yes, and the ghosts at Phantom Copy are ready to tell you all about GBP, how to claim and control yours, and why it remains important in automotive.
GBP–The Second Website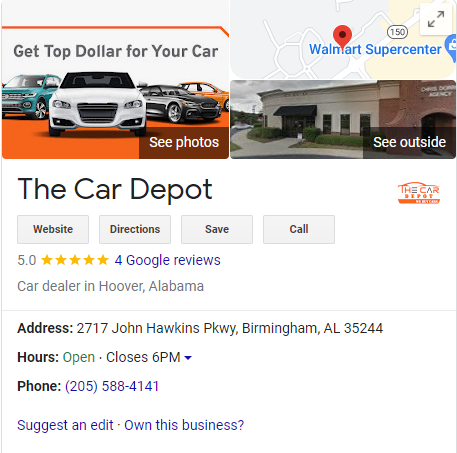 The easiest way to describe your GBP is to think of it as a second website. Actually, for most people searching for your business, you may want to think of it as your first website. This is the first thing many will see as they search for your business either through a regular Google search or through a Google maps search.
No, it's not going to have all the great features that your website has, but it will have a map to your dealership's location, contact methods for your dealership, reviews, images, and more all just a click or tap away. That's pretty good considering that the searcher potentially hasn't seen your website or even clicked on a single search result yet.
Quick Stats:
Over 5% of GBP views result in a conversion
Over 55% of GBP actions are website visits
Over 25% of GBP actions are direct calls
Claiming Your GBP
Many incorrectly assume that they have little or no control over their GBP. That's simply not true. It's easy to see how people could have come to that conclusion. If you don't take the time to set up a GBP, Google will likely create one for you.
You may think, "Wonderful, my work is done." However, that's like getting a customer to drive their car into a service bay and assuming that they took care of their own oil change too. Google knows a lot, but it doesn't truly know your dealership. Let's find out how to claim your dealership's page for yourself.
Start by going to Google Business and sign in using a Gmail account that you would like associated with your business. 
Assuming you don't have other businesses already claimed in your account, you will be prompted with a simple search interface. If you already have a different business claimed, start by navigating to "Businesses" on the left-hand side and then click "Add a business" in the upper right to get to the same search interface.
Type in the name of your business in the search.

Your business may not show up. If that happens then click "Add your business to Google" beneath the search and begin telling Google about your business.
Does your business show up, but isn't claimed. Then you can click manage now and go through the rest of the process
If your business is already claimed, Google will provide the first two letters of the Gmail account that owns it. You can request access and an email will be sent to that account.

After you have either claimed your business or created it, you will have to verify your address. This is done through good old-fashioned snail mail with a postcard. You can still start working on your page right away, but you will have to wait to be verified for those changes to be reflected.
How Do You Optimize Your Dealership GBP?
At first glance, your GBP seems simple, but there's actually a lot going on. We've listed them below in rough order of importance. If you notice posts are absent, that's because we put them in a category all on their own and we will get to them in a second.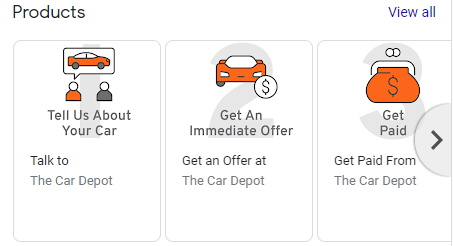 Business Info—Once you've claimed your GBP, this should be the first place you go. You want to make sure your address is accurate, the URL links to your homepage, and that you are routing people to the right phone number. You'll also want to update your hours and add attributes to your business. Accessibility and Offerings are both easy categories for a dealership to utilize. Don't forget to add a short but engaging description of your business.
Reviews—You should ensure that your reviews are being responded to. It makes your business look good, it compels already loyal customers to continue their loyalty, and it gives you an avenue to fix bad customer experiences that may have slipped through the cracks.
Photos—Are most of your photos taken by total strangers? That's the same with most businesses, and that can be okay, but you should at least curate those images. People can post anything, and though there is a review process performed by Google, you can't just trust Google to get it right. People are going to use these photos to learn about your business, and to take it to the next level, you can take professional photos of your dealership and include them on your GBP page. Additionally, ensure that you set both your logo and cover photo. These are the first images searchers will see, and you might as well get off on the right foot.
Products and Services—Services will help define your business and are pretty self-explanatory. On the other hand, products can let you highlight specific inventory, sales, offerings, or really anything. This section lets you include an image along with some text and even specific optional details like price. It can also be a great way to highlight individual departments.
One thing to remember, Google does employ a review process on any changes that are made, even by the owner of the business. For the most part, this shouldn't present a problem, but it will mean that the changes you make could take a few hours or even days to be reflected in search results.
Should You be Posting on your Dealership's GBP?
We know, it feels like one more social media feed to manage and handle. Facebook, Instagram, Twitter, and even TikTok can already be overwhelming, but your GBP posts may be more important. Think about it. When someone goes on Facebook they may not be looking for a car. The odds of them just seeing your post and moving on without a click, like, or comment are high.
When they see a post on your Google Business Profile, you can be relatively certain that they were at least looking for your business or businesses like yours. This means people that are in market and ready to buy. A GBP post is like a targeted ad, but one you don't have to pay for.
Types of GBP Posts
There are five types of GBP posts that you can utilize, but some are definitely more useful and relevant than others. Let's learn how each of them works.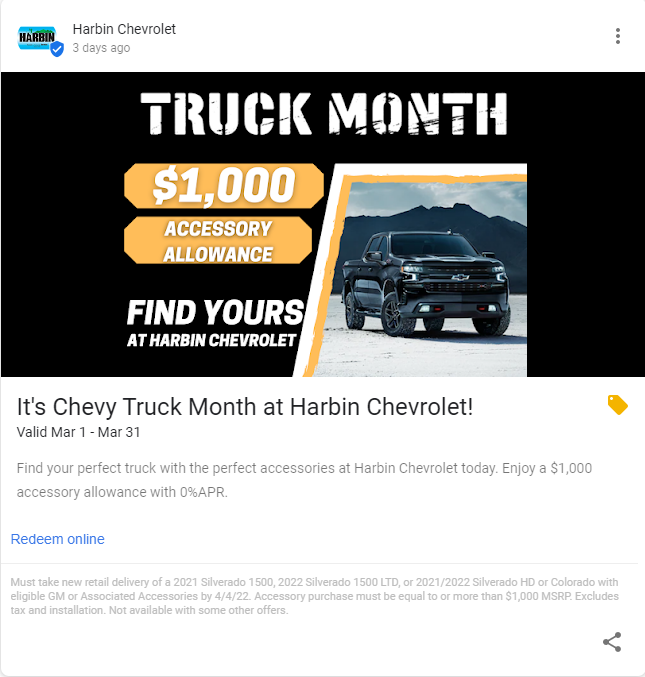 COVID-19—This type of post was added to update your customers on changes to your business due to COVID-19. This is the only type of post where an image isn't an option. Instead, it's just a place to update the status of your business. You can add an option button to this post as well.
Offers—This is the perfect place to list your monthly sales and incentives. Not just for the cars in your showroom but also for your service center. You can add a photo or video, include a title, and a start and end date. An offer will disappear from your feed after its end date. You should also use the optional details to add additional details, a coupon code, terms and conditions, and definitely include a link especially if you have a landing page for the offer.
Product—This one is a little different, and you may be thinking to yourself, we talked about products already. That's right, we did. This is just one more place Google surfaces its product feed. It's important to note that adding a product here will show up in your product feed and not your post feed.
What's New—Outside of the COVID-19 post, this is the simplest post you can make. It will just have photos or videos, some text, and an optional button. This is great for updates about your business that don't necessarily have a product or sale attached to them. In the past, these types of posts disappeared after 7 days, but now they will stay in your feed.
Event—This one works similarly to an offer. It can have photos or videos and should include a title, start date, and end date. You can also add additional details and a button. This is great for a test drive event, charity drives, or any special events that you want to encourage your customers to be a part of.
Can Your Service Center Have Its Own GBP Page?
It is possible to have more than one business listed at the same address, and if you have more than one address then that's all the better. There are a few things that will make this easier for you. Most dealers will already have separate phone numbers for service and sales, but if not that is a must. Unique federal tax IDs can also ensure that Google recognizes both listings.
Other sides of your business that you could set up unique GBP pages for could include your body shop or any car rental services that you provide. If you operate under one name but across multiple locations with unique addresses then each of those locations should ideally have their own GBP pages as well, especially if you want to show up accurately in local searches for all locations.
Now you know that you can create multiple GBP pages, but should you? It can depend on your business goals. If you aim to gain more exposure for other sides of your business, then having multiple pages that you can cater to individual business offerings will improve your presence on Google.
GBP for a Dealership Sounds Like a Lot of Work
The basics are not much work at all. A few hours on a slow Monday could be all you need to take control of your GBP page and ensure that everything is correct. Continuing to maintain your GBP, or even multiple GBP pages can be a time-consuming process. The SEO experts over at the haunted offices of Phantom Copy can manage your GBP for you and let you worry about selling cars.