New and pre-owned inventory shortages are something many dealerships have continued to struggle with over the past year. It's not a secret. And adjusting to this new norm has been a struggle for many, but it also has brought new opportunities, specifically when it comes to digital marketing. Utilizing digital marketing to acquire more vehicles and get more dealership inventory isn't the light at the end of the tunnel, but it's a solid strategy for acquiring more leads and inventory. And the quickest way to get started is to utilize paid advertising to get more dealership inventory. 
For most, paid advertising isn't something new. The majority of dealerships use paid advertising in Google Ads, Microsoft Ads, Facebook Ads, etc. when it comes to selling vehicles and booking service appointments. But like most digital marketing, paid advertising is an investment. And if done wrong, it certainly can be a poor investment. But if done right, it can pay dividends. Using paid search or paid social to acquire more inventory is no different. As you're thinking about your paid strategy and the appropriate way to acquire more inventory, here are some things to consider:
Be Diverse In Your Dealership's Digital Marketing Strategies
Digital marketing doesn't work in silos. Your content/SEO strategy often feeds into what you're doing for PPC, social media, email marketing, and everything else in between. With paid ads, it's the same. If you're trying to acquire more vehicles, don't limit yourself to one strategy or one medium. Be diverse and utilize pieces of digital marketing at your disposal.
In your paid strategy, consider not only doing search ads (ads on Google or Bing) but social ads (Facebook/Instagram) and display ads. Dedicate a portion of your content/SEO strategy to reach your local market and get in front of people looking to sell their vehicles. Make sure you have appropriate messaging and CTA's on your website and landing pages to make people aware you acquire vehicles. The list is somewhat endless, but you get the point.
Identify a Target Cost Per Lead With Your Paid Advertising
As with any marketing strategy, you should have an idea in your mind of a target ROI and cost per acquisition for new leads. What is the cost I'm willing to pay for additional leads of people interested in selling their vehicle to you?
If this is a new strategy for you, that may be hard to determine, but you may want to look at what it costs your dealership to acquire used inventory outside of digital marketing as a starting point. Auction costs of acquiring vehicles and resale margins on your lot or back to auctions is a good example:
Say your auction acquisition cost averages $400 – the cost you pay to get that vehicle from an auction. That may be high or low depending on your local market, but for purposes of this example, that's what we're using. If you're acquiring that vehicle, you probably have a good idea that you can sell that vehicle soon. There certainly may be costs with cleaning it up, fixing issues, etc, – but that is often the case with trade-ins so for the sake of this example, we'll ignore or keep this constant.
Let's Do Some Math
Let's say you get 10 people in your dealership looking to buy a car. What percentage of those actually trade their vehicle in? On average, let's say it's 20-25% – so 2-3 people from our initial 10. If you're acquiring leads of people looking to sell their vehicle, chances are not every single person is actually going to sell it to you. If we use the trade-in percentage as a benchmark, we will average the same. 2/10 people will accept your offer to acquire their vehicle.
If you're buying their vehicle, you are probably hoping for 1 of 3 things (or a combination).
You're reselling that vehicle on your lot.
You plan on reselling that vehicle at auction.
You're getting this person to upgrade into a newer vehicle after they sell it to you.
However you look at it, you have an opportunity to make money. And at the very least you should at least know your margins on each goal. Because one or a combination of those three things are ultimately going to give you an idea of your acquisition costs. Or the cost of acquiring a lead and the cost of you're giving that customer for their vehicle.
Now Back to The Math Again…
To benchmark – each closed lead AT MOST should cost you $400. the cost you're paying to acquire a vehicle from auction. So back to our example, at 10 leads- you end up buying 2 vehicles. Those 10 leads should at most cost you $800 ($400 x 2) or $80 per lead. Ideally, your paid strategy is bringing you in at a lower cost so you're seeing an even greater return.
This is just an example and with more data and a solid resell strategy, going to give you that ideal benchmark. At the very least if you should be aiming for something and hoping it decreases as time goes on.
Make It Easy For Users To Get An Estimate Or Offer On Their Vehicle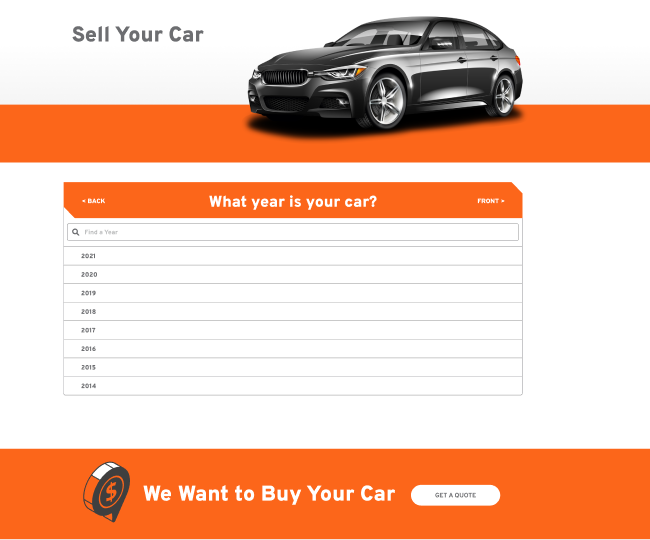 We touched on this briefly above, but if you're trying to acquire leads through digital marketing or on your website, you need to make it an easy process. Third-party tools like KBB, Black Book, etc. may be an easy solution. But it often does come with a cost (and limited visibility in lead generation as it relates to your campaigns). If the tool makes sense, definitely use it, but don't ignore other options. Here are some other options as you're considering this process:
Use Dedicated Landing Pages With Lead Forms
As with most paid advertising campaigns, best practices are often building lead generation pages. If you're running paid campaigns asking people to sell their vehicle to you, consider building specific pages that are geared toward your campaign (and ultimately lead generation). Adding this page (or pages) in your navigation and as CTA's throughout your website could be helpful in your content/SEO strategy as well.
Use Lead Forms On Facebook And Google Ads
Both Facebook and Google do support lead generation forms directly on the platforms. Essentially, you can build campaigns, and create a lead form on those platforms. Instead of sending traffic to a landing page on your dealership's site where people manually fill out a form, they click on the ad. Their information (name & email) is either pre-populated (using their Facebook or Google information). So it's much easier for them to submit. It all happens on the platforms, making it a quick and easy process for the user. Even if you're using dedicated pages or a third-party tool on your site, this can be a great way to improve your conversion rates. And ultimately reduce the cost of paid leads.
Keep in mind that there may be integrations needed to send directly to your CRM. Many automotive CRMs support this. And if not, you can build integrations through a third party like Zapier.
Consider Building A Microsite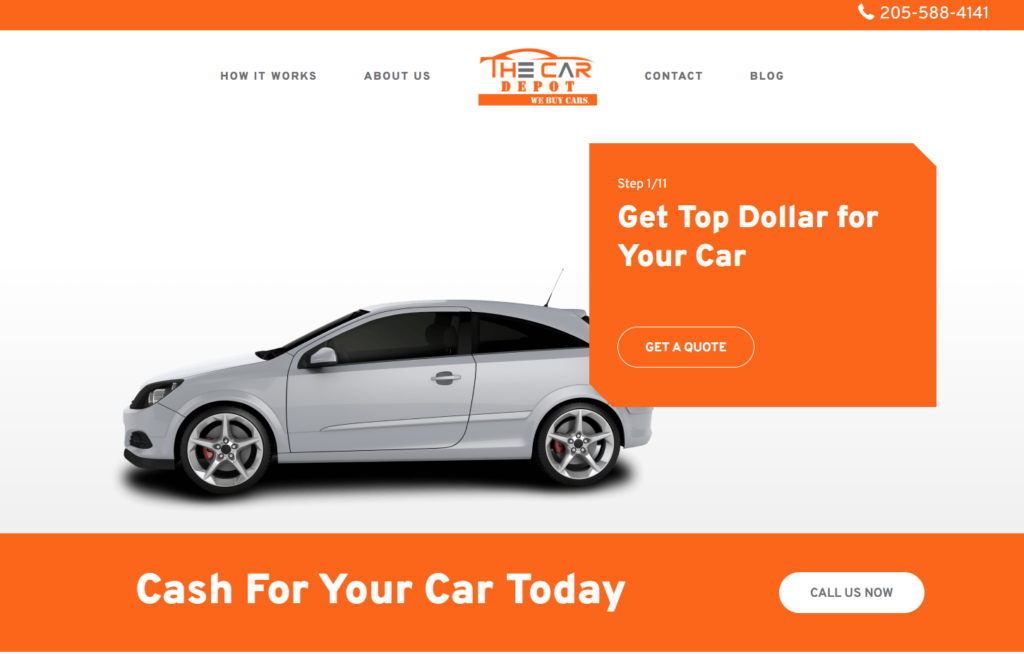 If you want to take it one step further, building a specific brand or experience with a microsite strategy can be a great solution to not only supplement PPC campaigns but to increase your overall lead generation strategy. A few dealerships, like thecardepot.com, have adopted this strategy and have seen great dividends. 
Use Video Where Applicable In Your Paid Ads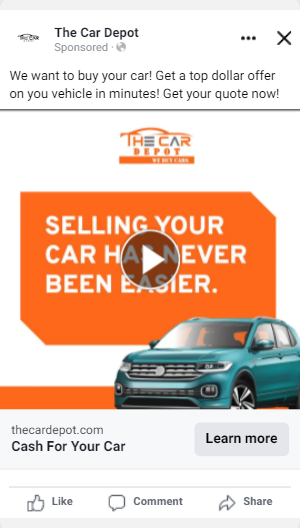 Video continues to be a growing thing, especially as it relates to social media. People engage with videos more than they do with any other sort of media on social channels. We're not saying other types of media don't work well with paid advertising. They certainly do. But as you're building a paid strategy, don't ignore video.
Most advertisers ignore it because it often does come with a cost. But there are ways to get around it. Fiverr or other video creation companies like Explainify can give you quality video content at a reasonable cost. Also, Facebook and Instagram do give you easy options to create video ads from images. Either way, you look at it, this could be a great and efficient way to use video in Paid advertising on channels like Facebook, Instagram, and YouTube.
Target Low Funnel – High Intent Keywords on Search Ads
A diverse digital marketing strategy is important in continuing to reach customers at many points in their online journey. The same concept somewhat applies to your keyword strategy. We know people search differently at different stages in their buying journey. And when it comes to selling their car, it certainly applies as well. As you're building a paid search strategy, make sure you're including keywords that cover many points in their journey. And even more importantly, make sure you prioritize those that offer high intent. Here are some examples of inventory paid search buckets with high intent:
Location Keywords – "sell my car in Oshkosh", "instant cash offer for my car in Oshkosh"
Near Me Keywords – "who buys car near near", "sell my car for cash near me"
Dealership Keywords – "best dealership to sell your car", "selling a car to used car dealership"
Common Competitor Terms – "sell my car to Carvana", "Carvana cash offer", "KBB cash offer"
Use Your Dealership's Customer Data For Targeting
Most paid advertising platforms have many varying different targeting strategies. One targeting option that they all have in common is the ability to upload customer data. If you're not familiar with it, you can upload customer data points (like email addresses and phone numbers) to Facebook or Google for example. With a large enough list, they cross-reference their user profiles to your list, allowing you to target those people with ads. On top of that, they also build lists similar to your customers, allowing you to reach other users with similar tendencies as your existing customer database.
If you have a large enough customer database, you could even segment to create a list of customers who own the vehicle models or brands you'd like to re-stock. Either way you look at it, using your customer day is just another great targeting opportunity for you to re-engage existing customers and find new ones with the intent of getting them to sell their vehicle to you.
Adjust and Fine-Tune Your Internal Processes
If you're new to using paid advertising to acquire leads of people looking to sell their vehicles, it also comes with adjustments. Acquiring vehicles for cash, and not trade-ins is certainly a business adjustment. But don't ignore the follow-up, response times, and everything else that follows along with this type of lead acquisition. You should be adjusting your processes and fine-tuning to improve those conversion rates as time goes on.
Choose The Right Partner
Building a marketing strategy to acquire more inventory can be a challenge especially if you have other digital and paid strategies to manage. But it's definitely possible, especially if you have the right partner. If you are interested in a different approach to acquiring more inventory with paid advertising, content marketing, and SEO, get in touch with us here.